Dental Crowns – Monroe, LA
Durable & Natural-Looking Protection for Hurting Teeth
From poor oral hygiene to sudden physical injury, there are many reasons why teeth can become damaged or decayed. If you fail to protect and restore your smile, you're left susceptible to dental emergencies and other serious complications. At our practice, we can strengthen your tooth with a high-quality and natural-looking dental crown. These modern restorations will get you smiling again in no time! If you'd like to find out whether or not you can benefit from this service, continue reading or make an appointment with Dr. Roberson today.
What is a Dental Crown?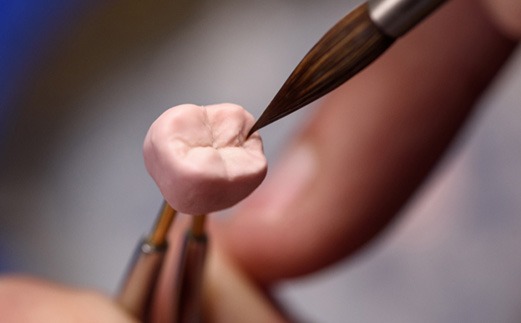 A dental crown is a three-dimensional cap that's placed over a damaged or decayed tooth, restoring its shape, size, and strength. It can be made from various materials like gold, ceramic, zirconia, or porcelain. The modern restoration combines the benefits of both restorative and cosmetic dentistry.
Most dentists recommend dental crowns for patients who have:
A broken, cracked, or fractured tooth
A stained or discolored tooth
Recently underwent root canal therapy
A previously decayed tooth with a large dental filling that needs extra support
The Process of Getting a Dental Crown
Getting a dental crown in Monroe is a multi-step process that takes place over several appointments. First, Dr. Roberson will perform a detailed examination of your mouth to determine whether or not a dental crown is the right option for you. He will also walk you through the process before moving forward with your decision.
Once you've agreed to get a dental crown, Dr. Roberson will prepare your tooth by removing a thin layer of enamel. This will ensure the restoration sits properly against your teeth. Impressions will be taken of your smile and sent off to a trusted dental laboratory for the creation of your custom restoration. While you wait for your dental crown to be ready, you'll wear a temporary one to protect your tooth in the meantime.
In about two weeks, you'll return to the office and Dr. Roberson will permanently bond the final dental crown into place. Before you leave the clinic, our team will explain how to properly care for your crowned tooth so you can enjoy it for years to come!
The Benefits of Getting a Dental Crown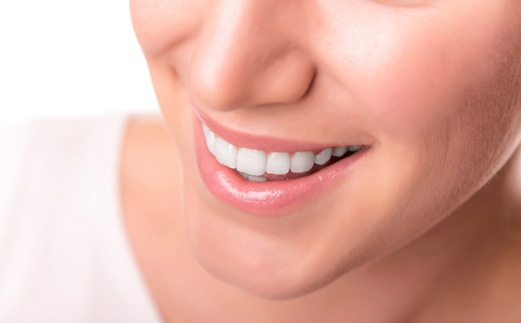 By choosing to get a dental crown in Monroe, you can expect to enjoy a wide range of incredible benefits, including:
Improved comfort and chewing ability
Protection for natural teeth to lower the risk of extraction
Ability to last over 15 years with proper care and maintenance
Natural-looking appearance
Reduced risk of worsening oral health problems down the line
Dental Crowns FAQs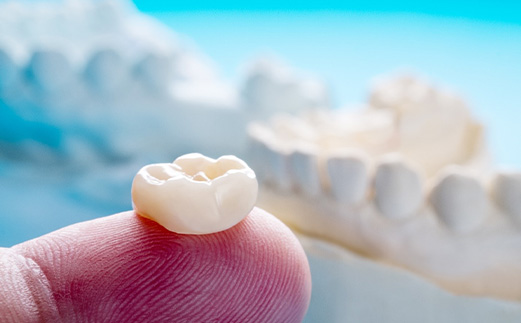 Do you have a decayed or damaged tooth? Instead of needing to extract it to preserve your oral health, you can effectively restore and improve its appearance with modern dental crowns. While you can expect to enjoy multiple benefits with this restoration, it's natural to want to know more about the treatment before committing to any work. That's why our team has taken some time to collect and answer some of our most commonly asked questions about dental crowns in Monroe. That way you can be well informed about your decision for renewing your smile. Read on or give us a call today to learn more!
Does It Hurt to Get a Dental Crown?
Similar to most other dental procedures, Dr. Roberson will completely numb your mouth with a local anesthetic before beginning your treatment. This means you shouldn't feel any discomfort throughout your appointment. Though this is typically done during the preparation phase, you may not require any numbing agents for the placement of your final crown. That said, our team will do everything we can to ensure you remain as comfortable as possible during your procedure. Once the preparation and placement portions are completed, your tooth may feel mildly sensitive for several days. You can easily manage this by taking over-the-counter pain relievers as necessary.
Are Dental Crowns Permanent?
Although dental crowns are incredibly durable, you'll eventually have to replace them, meaning they won't be considered a permanent tooth replacement solution. The only permanent aspect is the preparation process, as your tooth will need to be reshaped to make room for your crown. Since your natural enamel won't grow back on its own, your tooth will need to be covered and protected with a dental restoration moving forward. Fortunately, with proper care, you can expect your crown to go as far as 15 years or more before needing to be replaced! Just be sure to practice proper oral hygiene, keep a healthy lifestyle, and visit us every six months for checkups and cleanings to make the most of your renewed smile.
Can Dental Crowns Be Whitened?
Since your dental crown won't be constructed of the same organic, non-porous material as your natural teeth, you won't be able to whiten them in the same way. Even professional-grade bleaching agents won't be able to penetrate the surface of your restoration due to a lack of tiny pores. If you wish to ensure a brighter smile going forward, you should consider consulting Dr. Roberson about whitening your teeth before your dental crown is placed. In this way, your restoration will be able to be color-matched to the rest of your smile.
How Do You Know When a Dental Crown Needs to Be Replaced?
Only by getting X-rays taken or having Dr. Roberson physically evaluate your dental crown can you determine if your restoration needs to be replaced. However, you can still keep an eye out for certain symptoms that can necessitate a replacement, including:
Pain – The crown will need to be removed if the underlying tooth is decayed, that way the cavity can be treated.
Worsened appearance – A noticeably discolored, chipped, or otherwise compromised crown will require replacement.
Instability – Your crown should never feel loose, so you'll need to visit us right away if you notice any changes in the fit.
A dark line at the base – Porcelain-fused-to-metal crowns can begin to wear down and reveal the darker metal portion beneath.